They that wait upon the LORD shall renew [their] strength; they shall mount up with wings as eagles,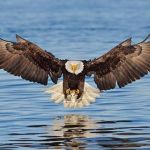 Isaiah 40:31
Waiting is a passive state of consciousness that does not receive the full measure of Infinite abundant power or insight. Waiting creates a block in your own consciousness that says," I'm not worthy; I have to be humble and wait on God to do things to me and in my life. I do not know myself." Yes if one says that, they do not Know themselves, nor do they Know God.
Waiting is hoping something will happen. Knowing is Divine action in our lives, as our lives. Why would we wait to Be all that we are meant to Be? Waiting is perhaps not the correct translation from the Hebrew.
Starcke loved to explore the roots of words we often use and the translations of words found in the Bible, such as this important one often quoted one from Isaiah. The interesting point here is that actual literal translation of the Hebrew word "qavah" is "to bind together like a cord." It has nothing to do with waiting.
Starcke would be quick to point out the Double Thread aspect of this meaning. It means to bind together in strength, as in to be One with Christ. Thus the meaning is that one's strength comes from being One with Christ.
Waiting on the Lord then becomes, "They that are bound together with the Lord as One cord, One double thread, Divine and Human, they shall raise up with wings of eagles."
Eron Starcke, The Starcke Center