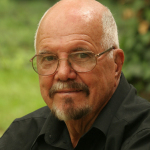 Walter Starcke's extraordinary life reads like fiction, but it's true! On his quest for life's ultimate answers and with his uncanny ability to perpetually reinvent himself, he donned the roles of modern mystic, Broadway producer, successful business entrepreneur, powerful keynote speaker and author of eight best-selling books — It's All God, The Third Appearance, The Double Thread, The Ultimate Revolution, The Gospel of Relativity, Homesick for Heaven, Joel Goldsmith & I, and The Star Keys.
In his career on Broadway, Starcke co-produced I AM A CAMERA which led to the musical CABARET, and resulted in his being one of the youngest producers to have received the NEW YORK DRAMA CRITICS AWARD. He also served as Assistant Director on the original production of Roger and Hammerstein's THE KING AND I. Starcke's friends in his theater days ranged from such literary giants as Noel Coward, Cole Porter, and his own peer group of friends – Gore Vidal, Truman Capote, Tennessee Williams, Marlon Brando, and Paul Newman, who Starcke discovered and introduced to Paul's first agent.
His business successes include the establishment of the OLD ISLAND RESTORATION FOUNDATION in Key West Florida, which was greatly responsible for Key West's popularity, and for this he received the KEY WEST INDUSTRIALIST OF THE YEAR award in 1962. In 1974, Starcke returned to his native Texas and purchased a 367-acre ranch in the Texas Hill Country, which he transformed into an internationally successful corporate retreat center for Fortune 500 companies with the help of his wife, Eron.
His mentor and most influential teacher was the Christian mystic and author of The Infinite Way, Joel S. Goldsmith – an association that began in 1946 and lasted until Goldsmith's death eighteen years later. As Joel knew himself, there was much more to reveal and share, which Starcke continued to do through his life.
At the INTERNATIONAL NEW THOUGHT ALLIANCE conference in 2001, Starcke was awarded its MYSTICAL CENTURY award. Starcke held a Doctor of Divinity degree from Emerson Theological Institute, and sat on the Board of Directors for Unity School at Unity Village Missouri.
Above all else his life was centered around his spiritual work.
Starcke's all consuming fire to find universal truths lead him to circle the world a half dozen times to study the major world religions. This trek took him from Lama Govinda's ashram at the border of Tibet to the Vedanta monastery in Southern California, with Swami Prabhavananda, in the days that Aldus Huxley and Christopher Sherwood were there. As Starcke says, "they were setting the patterns in the late forties for the explosion of interest in the mystical and metaphysical movement that is taking place today."
Starcke indeed closed the gap between the Divine and our Humanity by giving us The Star Keys to make this Process a real possibility of us all. He lived his Truth and share the most important truth that It's All God, in clear insightful ways.